Fri, 03/02/2012 - 17:30
'I'd ban the French from whingeing'
When we set off for France's indoor farm convention this week, we went in search of a farmer. But after endless moos and baas from hundreds of model livestock, we found something much better. An eccentric mayor who says he would like to ban…whingeing.
Wedged between two gigantic dairy cows in the noisy centre of France's biggest indoor farm, Jean-Claude Potié tips back his head and guffaws. "Hear that?!" he shouts over to us, waving a toy speaker. "Moooooo!" His real cows, lined up side-by-side on a straw-covered platform, are not currently mooing. But his toy "moo-er" is on repeat.
Jean-Claude Potié has been mayor of Izeron for the past 23 years. Sitting within the boundaries of the Vercors National Park, the tiny borough prospers on its abundant natural resources. "Where I come from, we make our cheese in the village and the milk we use comes straight from the cows on the mountain," he assures. "Even the cows eat well."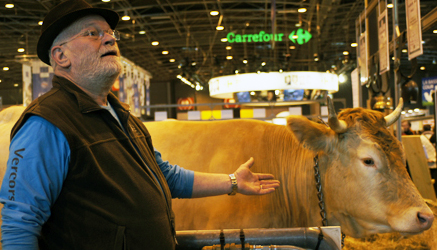 Jean-Claude with his "favourite cow".
Jean-Claude has travelled - along with his harem of vaches - 600 kilometres from his Alpine home to be at the country's biggest farming event. "We're ignored all year round by the media," he says, "but as soon as we get here, they can't get enough of us." Jean-Claude says that this year is especially important for farmers, with just two months to go before the presidential election. "We need to communicate with politicians, and this is the best place to do it."
A few stalls away, presidential frontrunner François Hollande is chatting to farmers, beginning a long, and frankly stinky, afternoon of interviews. He's not the only one to brave the stench for the all-important farming vote - Nicolas Sarkozy has already come and gone. (Much to the disappointment of the press, he managed not to call anyone a "sad prick" this time round).
'McDonald's can stay but the whingers have got to go'
Jean-Claude is concerned about modernisation and globalisation, but he shrugs off the enormous McDonald's stand that overshadows his own little podium. "Competition is no bad thing. The challenge is, to be better than them; to produce higher quality products and to advertise them properly. I don't think we'll ever adopt an American behaviour towards food, which strongly favours mass production. That would be a great shame for France."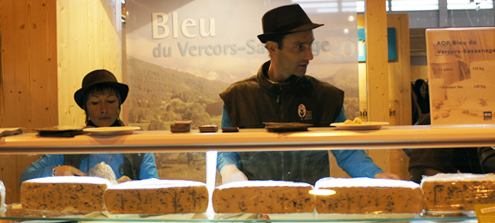 Cheese produced in the Vercors National Park.

Jean-Claude reckons we buy too much imported junk in Europe – and it would be hard for anyone to disagree. He says he'd like to see both the government and shoppers playing an active role in changing consumption trends. No more flying strawberries halfway across the globe in mid-winter, for example.
But Jean-Claude's truly passionate cause is to convince the French to stop whingeing. "This omnipresent feeling of doom and gloom is uncalled-for," he insists. "People have become so pessimistic, they never stop whingeing! They're always saying that farmers are ruined. It's not true. It might not be a blossoming business, but we manage to live well. Life is beautiful! Come to the mountains, you'll see."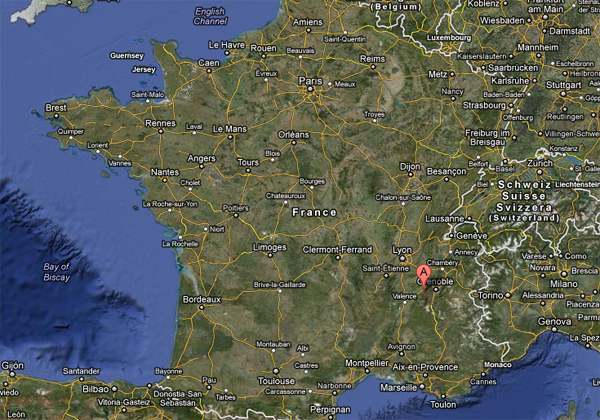 Jean-Claude's commune, Izeron, at the foot of the French Alps.
All photos & videos: Sophie Pilgrim/ FRANCE 24.

Tags for all blogs :
Comments or opinions expressed on this blog are those of the individual contributors only, and do not necessarily represent the views of FRANCE 24. The content on this blog is provided on an "as-is" basis. FRANCE 24 is not liable for any damages whatsoever arising out of the content or use of this blog.